Eleven Sports Media
Lunch Sponsor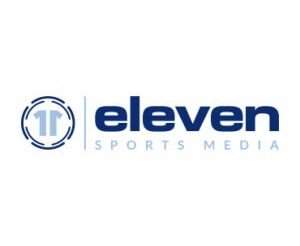 Eleven Sports Media' are the UK's market leaders in sports brand acquisition, partnership delivery, campaign activation and client account management.
It built its business by working with UK based sports clubs and venues to design and develop products. The development team built the StadiumTV platform which now extends to over 1800 screens, and is seen at over 50 sports venues in the UK. They've also developed the innovative StatZone channel, bringing live stats to stadiums and official club social media channels.
These exclusive platforms have allowed Eleven to construct a range of partner propositions, helping organisations of all sizes raise their profile in Britain.
For almost a decade, we've worked with some of the biggest rights holders in UK sport; from the Premier League, the EFL Championship, Aviva Premiership, Super League and British Horse Racing venues.
This year Eleven have launched Partner Programmes with the London Stadium, Newcastle United, Rangers Football Club and Leeds United – these exclusive relationships have contributed in allowing them to build one of the most sophisticated and diverse branding solutions in sport.
Its dedicated brand management team bring its partners expertise in multi-channel marketing and deliver award-winning partner experiences. All of its partners get unrivalled support from day one, with the dedicated account management team, assisting their customer base and delivering bespoke activation plans.
They are unique in the sports partnership and sponsorship industry in that they create and develop a range of highly engaging content media offerings, as well as producing money can't buy sports experiences – which provide brands and partners with high-value opportunities.
Eleven Sports Media is now one of UK Sport's most trusted names. 2018 is set to be a huge year for Eleven and its looks forward to launching more products, more propositions and activating more partnership programmes.
T: 0161 669 4214
Bibis Italianissimo
11 October 2018
13:00 - 17:00
Undoubtedly one of the most well-attended events across the week, the Leeds Business Week Lunch returns to Bibi's Italianissimo.