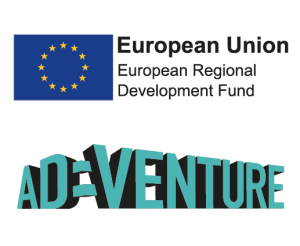 Providing expert help and advice to high growth businesses, AD:VENTURE is here to help your business reach its full potential. The programme delivers fully funded growth support to businesses in their first 3 years of trading and to people planning to start a new business. The services available include expert mentoring, events and workshops, specialist sector advice, access to finance and grant funding up to £25,000.

AD:VENTURE can support businesses in or locating to: Bradford, Calderdale, Craven, Harrogate, Kirklees, Leeds, Selby, Wakefield and York (within the Leeds City Region)

Is your business less than 3 years old?
Do you have ambitions to grow?
Are you trading with other businesses?
Are you based in the Leeds City Region or locating there?

Yes? Register online via www.ad-venture.org.uk/register to speak to an advisor and start your big AD:VENTURE

Please Note: ERDF Eligibility criteria does apply, and businesses in consumer retail (selling directly to the public), primary agriculture and nuclear decommissioning and education provision will not be eligible.
Everyman Cinema, Trinity Leeds
08 October 2018
08:00 - 11:00
Join us on Monday, 8 October at Everyman Cinema Leeds for a breakfast networking session and an opportunity to learn the advantages that online and self-published platforms can bring to business.
Cloth Hall Court
10 October 2018
15:00 - 15:45
Your business could be benefiting from access to funding that enables you to grow! This seminar will bust some of the myths around grant funding; we'll discuss what you can apply for, what you can't apply for, how to apply and how long the process takes. Take advantage of this free money and support to get your business to the next level!