Value Exchange
LinkedIn Training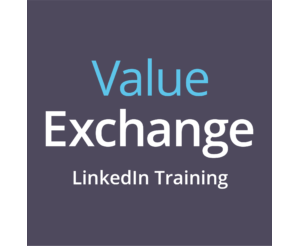 Value Exchange is a LinkedIn training, coaching and strategic B2B social media marketing consultancy, helping clients research, qualify and connect with their target audience through LinkedIn.
Our consultancy is designed to turn your online presence into a workhorse of generating new leads, finding and attracting the best talent and nurturing opportunities from prospect through to sale success.
Contact Us:
T: 0333 323 8275
Aspire
10 October
11:00 - 11:45
Learn how to turn LinkedIn into your most valuable lead generation asset. Many business professionals are on LinkedIn, but often don't know why! Learn how to use LinkedIn to engage with existing and prospective customers to create engagement and drive new business opportunities.