Lee Jackson
Motivational speaker, Powerpoint Surgeon, Presentation Coach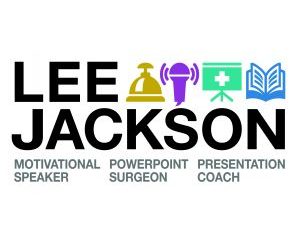 Born in the North East of England, now residing in Leeds. 'Lee from Leeds' is a multi-generational and creative communicator, with 20 years of experience. Lee has spent his life and work researching and speaking in many different settings such as prisons, schools, a cruise ship (just the once – no sea legs!), organisations and businesses.
He isn't a "celebrity" speaker, he's never bungee jumped (while playing the nose flute!) from the summit of Everest, he doesn't have an Olympic gold medal – in fact he doesn't even like camping very much.
However,  you'll be glad to know that people say he is a great speaker with original content based on solid research, not random or fluffy ideas. He's a "common sense" speaker (which is defined by Merriam-Webster as, "sound and prudent judgment based on a simple perception of the situation or facts.")
People warm to him, laugh with him and understand his messages. But more importantly if they put it into action the content Lee brings, it does make a bigdifference to their lives and their workplace.
Lee happily divides his time between working with both adults and young people. After all with 20 years experience in this field it will always be a part of his life. His creative, funny and truly multi-media presentations are a welcome break from 'flip chart overload' and 'death by power point'. His stories make people say "Yeah, that's me as well!".
He is a fellow of the Professional Speaking Association (the PSA) and was President in the Yorkshire region in 2013-14. He will be the next national President of the PSA in October 2016, a top honour in the professional speaking world.
Contact:
T: 0113 2170081