Hub 26
WORK | MEET | PLAY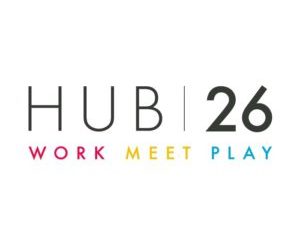 Hub 26 ushers in a new era in flexible working spaces to cater for the changing way in which people work, meet and play.
Our concept is simple — we have created a unique and dynamic environment, combining the very best in flexible office space, with relaxed meeting and co-working areas, offices, a fully equipped gym (COMING SOON) with juice bar and yoga space to enhance your work or workout!
What we offer:
EASY & FLEXIBLE OFFICE SPACE
QUALITY MEETING ROOMS
MEMBERS' LUXURY LOUNGE (COMING SOON)
HEALTH & FITNESS CENTRE (COMING SOON)
HOT DESK VIRTUAL OFFICE
ULTRA-FAST BROADBAND
CO-WORKING & BUSINESS SUPPORT
NO FEES, GUARANTEES OR CHARGES
CAR PARKING
INTEGRATED COMMUNICATION SYSTEMS
FLEXIBLE LONG OR SHORT TERM AVAILABILITY
FURNISHED OR UNFURNISHED
If you are looking for a friendly and fun place to work then this is the place for you. Hub 26 is ideal for commuters, sole workers, small businesses and organisations looking for a convenient location to base a satellite office.
It is within easy reach for local airports and transport links and is a great place to network and meet like-minded professionals. Our unique meeting areas and health and fitness facilities (COMING SOON) have been designed to optimise your health and wellbeing, enabling you to balance your work and lifestyle in a friendly environment