Bettys & Taylors
A great Yorkshire family business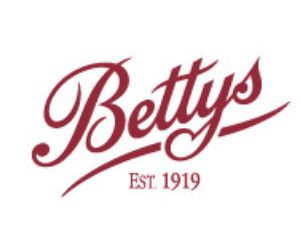 We're a unique Yorkshire family business with a real passion for making life's everyday treats even better. We bake handmade bread, create beautiful cakes, blend proper tea, roast delicious coffee, and deliver outstanding customer service.
Our business started in 1919 when Frederick Belmont, a talented and ambitious Swiss confectioner, arrived in Yorkshire, married a local girl and opened his first Bettys Café Tea Rooms in Harrogate.
Nearly 100 years later Bettys & Taylors is a vibrant and thriving family business with six Bettys Café Tea Rooms, a Craft Bakery, a Cookery School, online shop and one of the country's most respected tea and coffee merchants, Taylors of Harrogate. Taylors blends Yorkshire Tea, the third best selling tea in the UK, as well as Taylors market leading roast and ground coffees, and a range of speciality teas.
Contact Us:
E: nadene.wilkinson@bettysandtaylors.co.uk
T: (01423) 814000